I discovered in my automotive repair business that almost every customer would state that the "one thing" they wanted to know about automotive repair was "how not to be ripped off."
I spent close to a year creating content based on "auto repair ripoffs revealed" and "auto repair secrets exposed." I created Videos, Books, Information Sheets, Tri-Folds, Pamphlets, brochures and of course, several websites.
When I posted all my newly created content with all my secrets and insights, no one, and I mean NO ONE was even "looking" for this type of information UNTIL AFTER they had been "ripped off."
I was confused.
Every person coming into the shop for auto repair told me the same thing, "I don't want to be ripped off." I thought I had my retirement golden opportunity by creating the above info!
I want to save you from yourself.
The Secret Insight You Need To Know That Took Me A Year to Learn is THIS: What your customers "tell" you (in person) they want to know and what they "tell" you they are searching for online, ARE NOT the 'words' they actually use when they are searching online for information related to your products and services. <- READ THAT AGAIN <- and again.
The wisdom above is this: Create content related to what they are "telling" you they want to know and then TEST YOUR TOPIC TITLES of the content you create.
My Case Study.
FACT: The very same videos that I had created (98 of them) stating the information about "how to not be ripped off" I only renamed them from "Don't be ripped off on XYZ" to "How to tell if you need XYZ."
The "XYZ" above is only being a placeholder for the various aspects of a car repair process such as brakes, transmission, shocks, tune-ups, etc.
Keep in mind, I made 98 of these secret insight videos (on my first release) thinking I've struck gold because NO-Body else had this info out there! (Or so I thought).
Results: The very same videos – the very same information – only different titles
V1) "How not to be ripped off on XYZ auto repairs" (the exact words they told me) to this day, most of these are still less than 500 views. It's been 9 years and yes they are still online to this day.
V2) "How To Tell if you really need XYZ" to this day, several videos are over 1 million views with an average view duration of over 2:32 seconds each. The ONLY change was the title.
To Date: 3,960,000+ views with 9.9+ million viewing minutes with 10,000+ subscribers. Fact: multiple people are watching my videos right now, while you are reading this. While I write this article. While I drive across the country and while I sleep.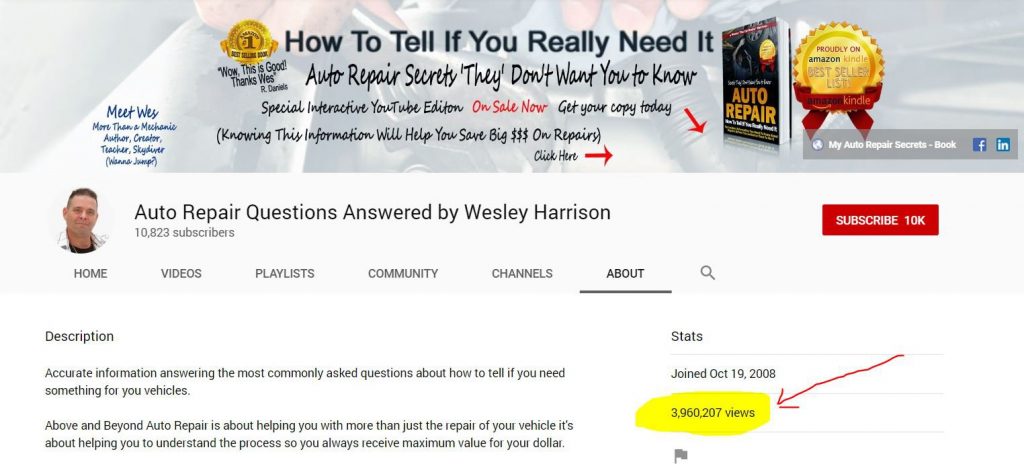 The link to my YouTube Channel "About" page is below. I want you to be able to see for yourself this is not hypothetical "Pie In The Sky BS": https://www.youtube.com/user/aboveandbeyondauto/about
The lesson here is: You MUST "read/listen between the lines" of the 'words' escaping their lips and run a "marketing validation test" on the "concepts" related to the words they say, before spending any significant amount of time and/or money on any aspect of your "marketing message." I have learned the hard way that what I think they want (because they said so) is in fact NOT what they search for.
My book "Auto Repair Ripoffs Revealed" Never Sold a Single Copy in over 6 months – NOT ONE. Yet with over 30 years as a professional mechanic, this is the ONE THING everyone told me they wanted to know.
As soon as I figured out the 2 magic words which are "how to" and changed the title to: "How to Tell if you Really Need It" I started selling books. To date – Thousands of them. As soon as I changed my video titles, my views started climbing and my shop triple net profits doubled (almost tripled) within 3 months of this change. AND YouTube is free!
Get's even better. I had stopped spending 3-400.00 a week on google PPC (this is a whole different story in itself and is why you are reading this now).
MORAL: This game we play as business owners is not like the movie "Field of Dreams," where you build it and they will come, yet this is exactly what unscrupulous marketing consultants will prey upon. Our desire to have our "knowledge" broadcast to the world so "they will come."
The Success Formula IS: Test everything first and use the data from your tests to find your "Golden Opportunities," in your market. Then "Amplify" your efforts on the winning campaign test results.
It's very simple, if you'll apply it.
Have questions? Call me.